Physiotherapist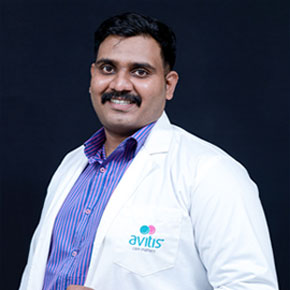 View Profie
Mr. Jagathnath K A
Physiotherapy
Highlights and Facilities
Outpatient physiotherapy for all types of musculoskeletal, sports related injuries and neurological rehabilitation.
Ergonomic evaluation and modification
Fitness clinics.
Antenatal and postnatal care (gynaec)
Geriatric and Women's health Fitness program.
Clinic Comprises
The clinic is well equipped with modern electrotherapeutic and exercise therapeutic equipments and modalities. The clinic comprises the following units:
Electrotherapy Unit.

TENS
IFT
Micro current
Russian current
Electrical muscle / nerve stimulation ( Galvanic, Faradic, VMS)
Therapeutic Ultrasound with Phonophoresis.
LASER therapy.
Vacuum therapy / cupping therapy.
Spinal traction / decompression therapy (cervical – neck / lumbar – low back)
Wax therapy
Short wave diathermy
Hydro collator – Moist pack
IRR – Infra Red Radiation therapy
Cryotherapy equipments
Physiotherapeutic Gym.

Isokinetic exercise equipments.

Treadmill
 Motor cross unit
CPM (knee)

Stair / slope advanced gait training unit
Multi-gym equipments (shoulder wheel, shoulder pulley, leg press, Q table etc)
Theraband / loop exercise setup
Gait training facilities
Exercise bike
Mat exercise unit
Hydrolic NDT table
Advanced hydrolic tilt table.
Parallel bar.
Hand Rehabilitation Unit.

Advanced prehension enhancing exercise unit.
Proprioception exercise tools.

Women & health and geriatric care

Pelvic floor exercise unit
Acitve (wobble board, balance board, swiss ball) , active- assisted (parallel bar, climbing ladder, finger ladder), resisted ( dumbbells, medicine ball, weight cuff, thera-band, exercise facilities).
Paediatric Rehabilitation Unit.

Hydrolic paediatric/NDT table
Paediatric specialised exercise tools

Sports /Fitness unit

Performance enhancing-exercise rehabilitation facilities.
General physical fitness facilities (weight reduction, obesity management)