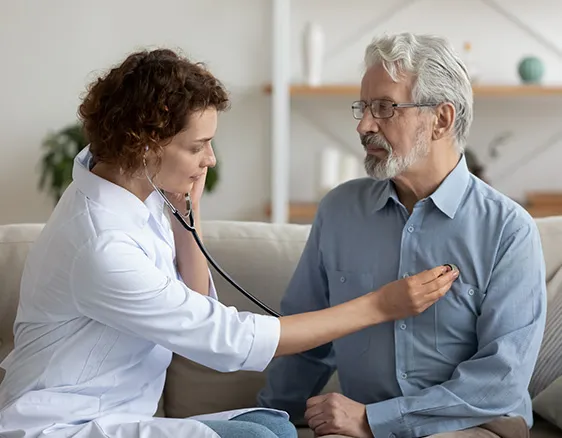 Institute of Cardiac Sciences
The Centre of Excellence in Cardiac Sciences is integrated with the best diagnostic services in the industry to provide patients with the latest treatment facilities available in the field. The exceptional team of cardiac surgeons, cardiologists, and cardiac anaesthetists work collaboratively to deliver excellent surgical outcomes and medical care.
Institute of Interventional Cardiology
Institute of Non-Invasive Cardiology
Institute of Cardiothoracic and Vascular Surgery (CTVS)
Institute of Cardiac Anaesthesiology
Institute of Interventional Cardiology
Interventional Cardiology Department is the subspecialty of cardiology and a non-surgical branch of Cardiac Sciences to diagnose and treat Coronary Artery Disease, Structural Heart Disease, Vascular Disease, and Congenital Heart Defects. It offers catheter-based treatments for structural heart diseases. These types of procedures are utilized to fix, or repair weakened or damaged blood vessels, clogged arteries, or other affected parts in the heart.
Facilities
Coronary Angiography
Renal Angiography
Peripheral Angiography
Coronary Artery Stenting
Primary Angioplasty
Carotid Stenting
Peripheral Stenting
Aortic Aneurysm Stenting
Transcatheter Aortic Valve Implantation ( TAVI )
Temporary Pacemaker
Permanent Pacemaker Implantation
ICD Implantation
CRT-D
CRT-P
IABP
ASD / VSD Device Closure
Coronary Care Unit
Institute of Non-Invasive Cardiology
The Non-Invasive Cardiology Department deals with detecting and treating heart problems outside the scope of interventions. Non-invasive procedures include advanced echo, stress testing, Holter monitoring and clinical evaluation.
Facilities
Stress Echocardiography, Transthoracic Echocardiogram (TTE)
Trans-Esophageal Echocardiography (TEE)
Holter Monitoring ( 12 lead )
Treadmill Test
Electrocardiogram (ECG)
Contrast Echocardiography
Ambulatory Blood Pressure Monitoring
Institute of Cardiothoracic and Vascular Surgery (CTVS)
The Cardiothoracic and Vascular Surgery Department at Institute of Cardiac Sciences provides advanced Cardiac surgical care at par with international standards.
Services Offered
Minimal Access Cardiac Surgery

Replacing/repairing heart valve/ Performing Bypass operations through small holes in the chest – (MICS/MVR/MICS – AVR/MIDCAB)

Coronary Artery Bypass Surgery

Beating Heart Bypass (Off-pump) Surgery
Multi Arterial / Total Arterial Bypass Operation ( TAR-MAG )
Conventional Bypass Operation
Small Incision Vein Harvest Technique
Aortic Surgery

Surgical Repair of Aortic
Aneurysm Surgery for Aortic Dissection

Vascular Surgery

Surgery on Blood Vessels ( Endovascular / Open )

Dialysis Access Surgery ( A-V Fistula )
Varicose Vein-Laser Treatment ( EVLT )
Thoracic Surgery
Facilities
24-hour Mobile Cardiac Intensive Care Unit equipped with Ventilator, Cardiac Monitor, Defibrillator, and a highly competent emergency team.
Fully equipped advanced Cath Lab.
State of the art Cardiac Operation Theatres with HEPA Filter and Laminar Flow meeting international standards.
Fully equipped Cardiac Surgical Post-Operative ICU
Experienced and motivated staff.
Latest Multi-parameter patient monitors, Biphasic defibrillators, and imported remote-controlled ICU beds.
Latest Philips Acuson Color Doppler Echocardiography machine with advanced adult transesophageal and trans-thoracic probes.
Latest Ventilators with ETCO2 monitoring.
LED lights and pendant-mounted anesthesia machine
State-of-the-art Heart-Lung Machine.
Institute of Cardiac Anaesthesiology
A fully equipped Cardiac Anaesthesia Department with highly skilled and specialized Cardiac Anaesthesiologists ensure smooth conduct of complex Cardiac Interventions and Heart operations. Intraoperative transesophageal echo is routinely performed by Cardiac Anaesthesiology. The department also provides support for the complex Vascular and Thoracic Interventions performed at the Institute.
Services Offered
Intraoperative Trans-Esophageal Echo
Regional and Spinal Anaesthesia
USG – guided field block
Complex Invasive Line Placements
24/7 Consultant Cardiac Anaesthetic Service
Facilities
Datex Ohmeda and Drager Workstations with Vaporizer
Defibrillators
Fibre Optic Bronchoscopes
Neuromuscular Monitors ( TOF )
Trans Esophageal Echocardiography
Ultrasound for Interventional Procedures