Institute of Renal Sciences
Renal diseases leading on to EKD (End Stage Kidney Disease) forcing people to be on dialysis or to go for renal transplantation are on the rise in the society. This is mainly because of lack of awareness about the importance of early diagnosis and management, especially in the form of life style modifications. These factors along with dependence on quackery put the resilience of the kidneys to test, resulting in irreversible damages. Avitis is committed to put a stop to it and has developed a Centre of Excellence to contribute towards this cause – Avitis Institute of Renal Sciences.
Well-Equipped 8 Bed facility for Dialysis
Kidney Transplant Unit with Endoscopic Donor Nephrectomy Facilities
Urology Diagnostic Suite
Renal Stone Management Unit
Nephrology
The department of nephrology specializes in the care and treatment of systemic conditions that affect the kidneys, such as diabetes and autoimmune disease; and systemic diseases that occur as a result of kidney disease, such as renal osteodystrophy and hypertension. Kidney problems can have significant impact on quality and length of life, and so psychological support, health education and advanced care planning play key roles in nephrology.
The scope of the department also includes kidney and transplant kidney biopsy, dialysis access insertion (temporary vascular access lines, tunnelled vascular access lines, peritoneal dialysis access lines), fistula management (angiographic or surgical fistulogram and plasty), The department also caters sub-specialisations in dialysis, structural kidney diseases (uro-nephrology), procedural nephrology or other non-nephrology areas.
Facilities
Hemodialysis for acute chronic renal failures
Critical care neprology
Peritoneal dialysis
CRRT (continuous Veno-venous hemodialysis)
Renal transplantation
Plasma exchange
AV FISTULA creation, fistulogram, and percutaneous interventions
Insertion of CAPD catheter and tunneled catheter for hemodialysis
Renal biopsy
Rehabilitation and counseling
Well equipped 8 bed facility for dialysis
Urology
The department of urology provides comprehensive treatment and care of the disease conditions affecting the urinary system, including the bladder, prostrate, kidney, ureter, urethra and adrenal glands of the male and female urinary tract. Department of Urology in Avitis offers comprehensive urology services to diagnose and treat kidney stone disease and urinary tract difficulties. With state of art laparoscopic facility to treat tumors from kidney , adrenal and laparoscopic treatment for uterine prolapse surgery.
Facilities
General urology and stone surgery
Laparoscopic General and urology
Laparoscopic Gynaecology surgeries
Renal stone management unit
Urology diagnostic suite
View Profile
Dr. Narayana Murthy G R
Senior Consultant - Urology & Laparoscopic Surgery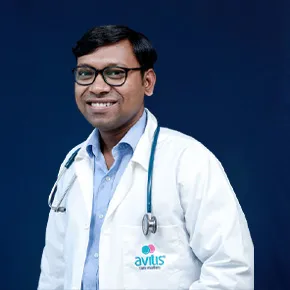 View Profile
Dr. Aniket Kamble
Consultant- Nephrology